The 2022 Pro-Am Interclub Foursomes Draw
Would all Professionals in the Pro-Am Foursomes please note the following:
1. Contact your opponents as soon as possible, don't leave it to the last day. Also try to have an alternative day within the play by date.
2. It is the equal responsibility of both teams to arrange matches (Don't wait for them to contact you)
3. Please do not request an extension as this will not be granted.
4. Amateur partners can be changed as long as they have not played in a previous round.
5. Results must be sent to the Director of Tournaments within 48hrs of the match being played.
6. It is the obligation of the winning club to make sure that the result is communicated within 48 hours of being known to the Director of Tournaments Kevin Whitfield-Green. (T: 07894 700350, E: kevinwgreen@live.co.uk).
We have highlighted the above points to assist teams in playing their matches on time, and to help them comply with the rules of the tournament.
2021 L&RGU Inter Club Pro-Am Foursomes Winners Birstall C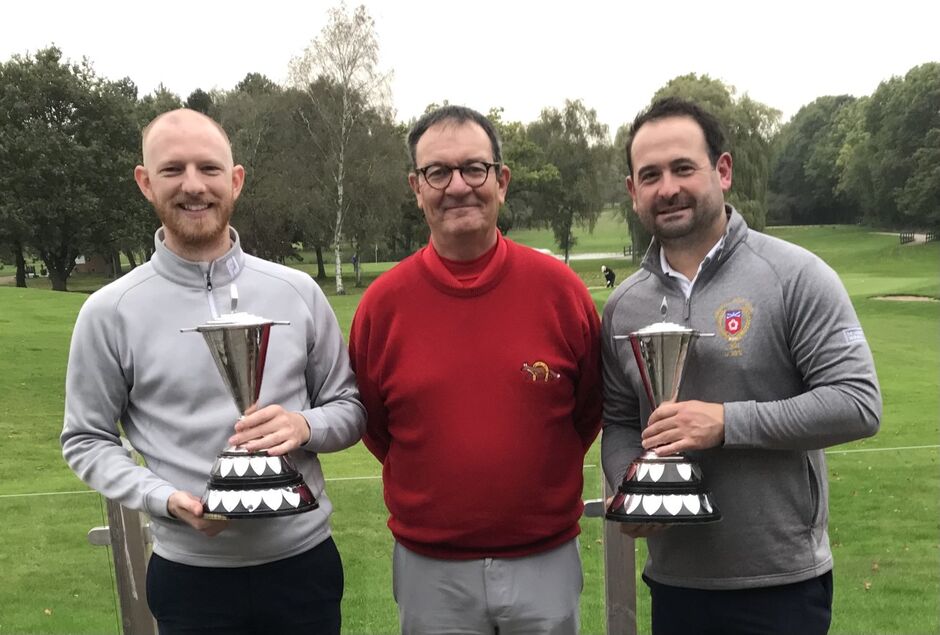 Michael Reed, Kevin Whitfield-Green Past President, Ryan Topley
| | | | | | | |
| --- | --- | --- | --- | --- | --- | --- |
| R 1 - Play by 25th Apr | R 2 - play by 31st May | R 3 - play by 4th Jul | R 4 - play by 8th Aug | Semi Finals play by 12th Sep (at neutral venues) | Final Sun 2nd Oct Kibworth | Winners |
| Luffenham Heath D v Glen Gorse B | .-Glen Gorse B 1up | | | | | |
| | | .-Lutterworth A 3/1 | | | | |
| Lutterworth A v Charnwood Forest B | .-Lutterworth A 5/4 | | | | | |
| | | | .-Lutterworth A | | | |
| | .-Rothley Park A | | | | | |
| | | .-Mkt Harborough B 2up | | | | |
| | .-Mkt Harborough B | | | | | |
| | | | | - | | |
| | .-Melton Mowbray | | | | | |
| | | .- Melton Mowbray 19th | | | | |
| | .-Luffenham Heath A | | | | | |
| | | | .- | | | |
| | .-Scraptoft A | | | | | |
| | | .-Lingdale 5/4 | | | | |
| | -.Lingdale | | | | | |
| | | | | .- | .- | |
| | .-Birstall A | | | | | |
| | | .-Birstall A 3/2 | | | | |
| | .-Lutterworth C | | | | | |
| | | | .-Birstall A | | | |
| | .-Forest Hill A | | | | | |
| | | .-D/Q | | | | |
| | .-Beedles Lake C | | | | | |
| | | | | .- | | |
| | .-Luffenham Heath B | | | | | |
| | | .- Beedles Lake A 2/1 | | | | |
| | .-Beedles Lake A | | | | | |
| | | | .-Longcliffe A 3/2 | | | |
| | .-Longcliffe A | | | | | |
| | | -Longcliffe A 1up | | | | |
| | .-Kibworth B | | | | | |
| | | | | | | . |
| | -Charnwood Forest A | | | . | | .- |
| | | .-Glen Gorse A | | | | |
| | -Glen Gorse A | | | | | |
| | | | .- | | | |
| | -Birstall B | | | | | |
| | | .-Birstall B 4/2 | | | | |
| | -Humberstone Heights | | | | | |
| | | | | .- | | |
| | -Mkt Harborough A | | | | | |
| | | .-Scraptoft B | | | | |
| | -Scraptoft B | | | | | |
| | | | .- | | | |
| | -Cosby | | | | | |
| | | .-Cosby | | | | |
| | -Kibworth A | | | | | |
| | | | | .- | .- | |
| | -Longcliffe B | | | | | |
| | | .-Lutterworth B 3/2 | | | | |
| | -Lutterworth B | | | | | |
| | | | .-Lutterworth B 7/5 | | | |
| | -Beedles Lake B | | | | | |
| | | -.Beedles Lake B | | | | |
| | -Luffenham Heath C | | | | | |
| | | | | - | | |
| | -Birstall C | | | | | |
| | | .- Birstall C 8/7 | | | | |
| Kibworth C v Mkt Harborough C | - Kibworth C 4/3 | | | | | |
| | | | .-Birstall C 1up | | | |
| Ullesthorpe Court v Rothley Park B | -Rothley Park B 7/6 | | | | | |
| | | .-Rothley Park B 2/1 | | | | |
| Hinckley v Forest Hill B | -Hinckley | | | | | |